What Our Partners Are Saying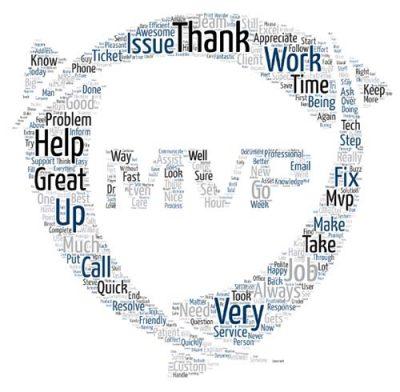 Buffalo Spine & Sport Medicine
Buffalo Spine & Sport Medicine
"Julie U always do a great job, pleasure working with you always a Wow"
Rocco J Diina
03/17/2023
"Spoke with Julie Vasquez. For one it was nice someone answered the phone and I did not have to leave a msg because I am only at this client a few hours a week. She could not have been more helpful. Pleasant to talk to, and so quick with emailing me just what I needed. Thank you!"
Marcy A DeGain (Burgio Curvin & Banker)
03/08/2023
"It was fast service thank you for your help."
Ban A. Alshathr
02/20/2023
"Such a pleasure having Omar to help through a crisis or a project. Great communicator, very knowledgeable and walks through the steps with you before actions are taken so that we are comfortable with what is going to happen. Awesome at planning out projects to eliminate foreseeable problems."
Kevin Gerhard
02/07/2023
"Responsive, friendly, knowledgeable and thorough. Matt simply is the best."
Bobby Chianelli
01/30/2023
"Very professional and helpful. Thank you! All steps were addressed and perfect on time!"
Karen Suarez
12/05/2022
"Matt Always gives us the best prompt service!!"
Bobby Chianelli
11/03/2022
"Connor ALWAYS solves our problems! Helpful without making you feel like you are clueless."
Ann O'Rourke
09/26/2022
"Connor was very polite and efficient and was quick to understand and recommend a solution to my problem while also implementing it quickly with no disruption to my day."
Jared Hise
09/19/2022
"Aaron is an exceptional employee, gifted and kind and he solved our problem with dispatch. I would give him a double WOW as he not only got us up and running in a timely fashion, he saved us time from having to do rescue data entry. Double WOW is appropriate! I thank you. Aaron is a perfect example of customer service and customer care."
Teresa Lukasik
06/23/2022
"Quick & easy"
Sabrina Shea
06/07/2022
"Reagan was very pleasant and immediately knew the problem and provide the solution. very courteous and friendly, my issue resolved in no time Thank you"
Abdul Shahzad MD
04/05/2022
"connor was excellent and very helpful"
abbe walsh
04/01/2022
"Ian's prompt reply kept me updated – thanks for that!"
James @ datto
02/02/2022
"Justin is always professional and flexible. He is very quick to respond to any inquiries and/or requests for assistance. Justin has a very positive can do approach to whatever he does."
Ellen Galey
12/29/2021
"Priscilla was quick and knew exactly what needed to be done. Even with the few hiccups at play, Priscilla stayed positive and didn't make it seem impossible to get done. Thank you, Priscilla! You're the best!!!"
Tyler
10/21/2021